Being Digital: Small Business Considerations
01.13.2016
Small to mid-size businesses (SMBs) face challenges specific to their scale. A business under $75M can benefit explosively from Digital enablement, but only if it chooses its investments wisely.
This series of articles presents a framework to help owners and operators of SMBs under $75M make Digital investment decisions aligned with the health and growth of their business.
Is Custom Software an Overlooked Choice?
Small businesses are innovators.
They have to be in order to compete against established players.
This means that small businesses strive harder for competitive advantage, and to get that advantage, they innovate. They innovate with respect to how they do business, with whom they do business, and at what costs and margins they do business.
Small and large, businesses rely on automation for part of that competitive advantage, but small, nimble businesses are rarely able to find an off-the-shelf (OTS) software solution that adequately fulfill their needs.
Why? Because OTS software is written to sell at massive scale, to many businesses that are similar enough to each other to benefit from that software in similar ways.
In other words, the world of enterprise software is not designed to help you, the small business executive, to innovate and outcompete more established companies. Quite the reverse, OTS software is often a waste of precious resources and in the end hampers the small business. The diagram below illustrates why this is so: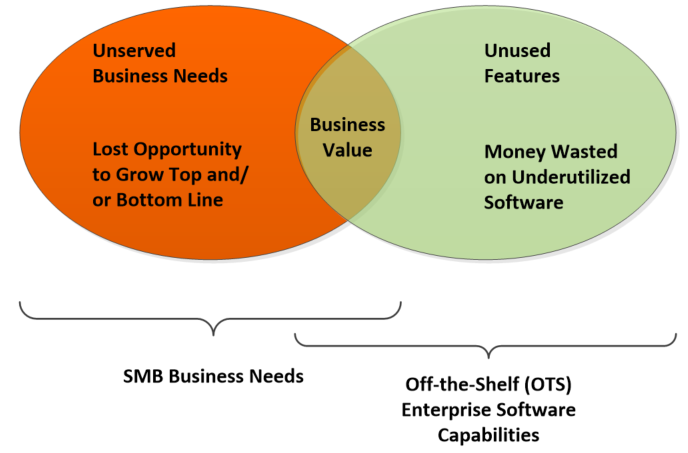 The intersection in the middle can be larger or smaller in specific cases, but for most small businesses, it's simply too small to be worth all the costs on either side.
Basically, enterprise software is often built to support more complex, highly standardized businesses, not to enable aggressive small businesses to disrupt the established players.
Additional Considerations
Despite claims to the contrary, OTS software works best when a business changes its operations to suit the software, while custom software is designed to suit the business. This key difference means that OTS software reduces some of the flexibility that an SMB needs to create competitive advantage, while custom software creates competitive advantage from the things a business already does well.
OTS software deployment also requires tremendous organizational energy and change management discipline to create the organizational change needed to adapt to the software. The extreme effort required (and the consequent high failure to adopt the software) is one of the main reasons OTS deployments fail. For a small business, the risk of such failure is often too great, and the wiser choice is to build custom software that fits the business on day one.
Meanwhile, due to continued growth of great development tools, frameworks, and techniques, the cost developing built-to-order functionality continues to plummet, putting innovative custom solutions within the reach of most SMBs.
Innovative Businesses Often Require Innovative Software
There are really only a few high level levers that change the dynamics of a business. They are:
Costs:
Cost of producing and delivering your goods or services

Cost of sales and marketing

Cost of operation (chairs, computers, rent, business services like accounting, etc.)
Revenue:
Revenue (revenue per unit of product or services sold and total units sold)

Tactical and strategic insight improves executive steering
Through the cold, hard lense of business management, even things that many of us value abstractly (pleasant customer experience, for example) translate into bonuses or penalties to (in this example) repeat purchase, and those bonuses or penalties in turn affects or cost of sales and total revenue.
From the perspective of an aggressive SMB, software needs to profoundly improve one or more of these areas or it's just not worth paying for.
If you want to make an impact on those key levers but OTS software's features mostly don't serve your needs, you will likely not get that key competitive advantage that small businesses need, and the installation, configuration, and learning related to the new software will absorb a great deal of your business's money and organizational energy.
For all of the above reasons, custom software tailored to your business's current stage of evolution, that requires minimal learning by your staff, and that makes strong impact on key levers of business success, is often the right solution to propel your company up to the next level.
Making the Move
Whether you decide to stick with OTS solutions, or if you find yourself considering custom software for your business, make sure you have the expertise, in-house or in a trusted partner, to navigate the path from great idea to realized business benefit. The journey is not simple, but the destination is worth the effort.
We will continue to publish information that will help you along the way. If you have questions or are facing challenges which are not yet addressed in the series, feel free to reach out and we will assist if possible.
In the next installment of "Being Digital: SMB Considerations," we will explore the ways Digital technologies can help you reduce your costs, increase your revenue, and improve customer acquisition and retention. We will then flip the conversation and examine the risks of custom software development and the natural outcomes of a "buy-only" strategy.
Alex Asianov is the CEO and President of DOOR3. What are your thoughts about " Small Business Considerations", do you agree with Alex? Let us know.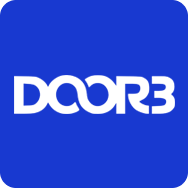 Need more help?
Talk to a UX expert
Discover the Power of Seamless Interactions
Use our price calculator
Let us help you enhance your user experience