Deck the Halls with Lots of Beacons
12.17.2014
'Twas the night before Christmas, when all through the house not a beacon was stirring, at least not yet anyways.
While Macy's, Abercrombie & Fitch, Walmart and a number of other retailers are making efforts to integrate beacon technology into their brick and mortar experiences this holiday season, we're still a ways away from them being apart of our daily lives. Lately at DOOR3 we've been playing around a lot with these little things for our clients, as well as wracking our brains for how we can push the technology further.
With the holidays less than a week away, we got in the spirit and put together a list of things you can expect to see with beacons in the new year, plus some things we're hoping will come true in time.
The Beacons of Christmas Present
Location Based Information - Push notifications and other alert types on our phones make for the perfect delivery system for quick blurbs and facts. The benefit beacons have over other positioning systems is indoor proximity awareness within a couple of feet. With a Bluetooth enabled device, Starbucks can now greet you at the door and also remind you the Eggnog Latte is back for the holidays.
Proximity Marketing - Of course the next natural progression is for brands to now tote their wares. This may include more detailed information about the product right in front of you or even incentives to buy like a coupon or special in store deal.
In Store Mapping - One beacon is nice, but string a bunch together like tinsel and you've got a network. According to the most recent census, the overwhelming majority of shoppers still prefer to make their purchases at the store. Target along with a number of other retailers are rolling out mobile apps that map to in store locations, helping you find the exact aisle that must-have is located in.
Wayfinding - The next step is to then lead you from one place to the next. So instead of walking aimlessly around the store trying to find what you're looking for, you're provided turn-by-turn directions to everything on your shopping list.
Triggers - Once you arrive at the aisle and shelf, a beacon can then communicate with you by triggering off an event. Beyond product information and coupons, this could soon be something like firing up a promotional video, having a store clerk call or chat with you on your phone or any other number of physical responses. Both GE and Philips are developing similar proximity technology to change or alter the response of lighting, so unlike that leftover fruit cake, the possibilities are endless.
POS (point of sale) Transactions - So you've found the item, but now what? Wait in those horrendous checkout lines for an hour? Hopefully not. PayPal has been actively developing an app that will soon let you bypass all of that and pay for the item right on the spot.
Product Ratings - After you've made your purchase, go ahead and give it a review for future shoppers to see.
The Beacons of Christmas Future
In Store Wish List - Now you're thinking you might want one of your own. Well similar to the mapping example above, what if you could leave behind a hint for gifts you want? Simply mark the location of the item in the store and share your wishlist with friends and family to buy later. No more ugly sweater gifts.
Traveling Purchaser Problem (TPP) - Now onto the next store to pick up something for that special someone. With all these in store beacons talking to all of our pockets, its gotten pretty busy and because the next store's app lets you know how many people are actively shopping, you decide to hit another branch across town instead. Black Friday black eyes averted.
Supply Chain Management - Nuts! You drove all the way across town only to find a beacon sitting on the empty shelf. Potentially this beacon could let you know when the next shipment will arrive or at the very least give you directions to another nearby store that has it in stock. Ideally it would then alert the store, message the inventory management system and take itself offline so its not visible to the next shopper.
Price Comparison or RTB (real-time bidding) - You finally find a store that carries what you're looking for. They have a ton in stock, but you realize there is another brand offering something identical. Maybe someday we could negotiate a better price with a beacon or maybe even two beacons could negotiate for us. Two competing brands with two competing beacons aware of each others pricing in a bidding war to win your purchase. The true spirit of Christmas.
Two Way Communication - As of right now a conversation with a beacon is very unidirectional. You open an app, the beacon sees you and shoots you a quick Seasons Greetings, but what if you could say Feliz Navidad back? As the medium advances, you could remind the beacon of your preferences and shopping history so it knows not to bother you with things you don't need. It might even start to learn and eventually predict what you need much in the way Amazon does online.
Remove the Need for Apps - One of the major barriers to entry is the need for beacons to authenticate with an app in order to communicate. Currently that means turning on Bluetooth, locations services, downloading the retailers app, allowing them to use your location and then giving them permission to send you messages. You'd then need to repeat the process for any other brand you wish to interact with. Luckily Samsung is trying to make things easier by releasing a platform that integrates directly with its devices. Paving the way to standardization in the industry, as well as alleviating app dependency.
Responsible Usage - Lastly, the hottest topic in the beacon discussion is the invasion this could present. Let's all hope the grinch doesn't get a hold of things otherwise we could start seeing ourselves living in a world similar to what Tom Cruise experiences in the movie Minority Report.
We put a lot of faith into brands regarding our privacy and the security of our data, so making sure the user experience is safe and inviting will be of the utmost importance no matter which usage beacons end up taking on.
And of course these are just some shopping related uses beacons could provide. I'm sure there are a thousand other ways we could dream the future. What types of uses can you come up with? Leave a comment below.
Ryan Daniels is a Senior Consultant at DOOR3.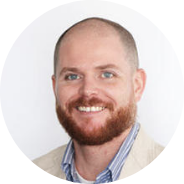 Need more help?
Talk to a UX expert
Discover the Power of Seamless Interactions
Use our price calculator
Let us help you enhance your user experience