How Investing in Building and Maintaining Custom Software Can Pay Dividends, Literally
06.11.2021
In a world where we expect technology to function seamlessly and an app to exist for everything, we often accept less in our business software. We get by with workarounds and manual solutions and hacks that allow us to get the job done… only as long as conditions remain optimal. But as the world shut down at the start of the pandemic, the power of smart software solutions became undeniable. Employees working from home needed seamless, secure ways to continue the workflows that were transferred from the office to a diffuse network of home offices.
While I could spend a whole blog post pontificating on the benefits of custom software solutions, which have only been compounded by recent business shifts, that is not this blog post. Instead I'd like to speak to the financial value of custom software.
Often when an enterprise is deciding whether custom software is right for them, they consider questions similar to the following:
Can my problem be solved by an existing off-the-shelf solution?

Can my company benefit from custom features or expanded capabilities?

Can custom software change how we work for the better or create a competitive advantage?
I would like to introduce a new question that should be part of the equation:
Can custom software increase the value of my company?
Beyond the workflow efficiencies, data-driven insights, and new opportunities custom software can open up, in my experience, becoming a software-driven company can increase the value of your organization as much as tenfold.
While I'm deeply entrenched in the software consulting world now, my background is in private equity and venture capital, where I've seen the other side of the equation. If for instance, you've built a recruiting firm from the ground over the course of 10 years, you might get two to three times your annual revenue in selling your company, complete with your team and book of work. But if you've built proprietary candidate evaluation software, for instance, you could potentially receive 10 times your annual revenue, as a software development company that specializes in recruiting.
Conditions for value creation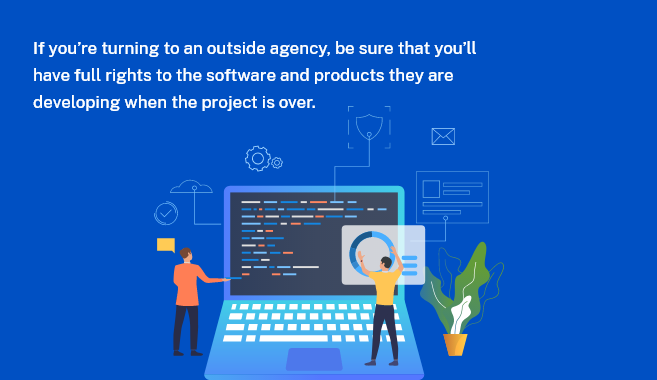 Of course, it's not quite as simple as just creating your own software and—poof!—multiplying the value of your company. There are a couple of conditions that govern the value.
First, you must actually own the software and related intellectual property. If you're handling development in house, this shouldn't be a problem. If you're turning to an outside agency, be sure that you'll have full rights to the software and products they are developing when the project is over.
Second, and this is the one that requires long-term investment, you must make sure that your software is regularly maintained and kept up to date. There is certainly a cost to invest and refactor, but that will contribute to the ongoing value of your asset. (Never fear. If your in-house developer is no longer around to maintain your software, all is not lost! There are still ways to make sure your application is supported.) Plus, of course, keeping your application up to date ensures you'll glean the most value out of it on a day-to-day basis.
The payoff
Don't take my word for it. Survey data from Digital Exits' 2020 Business Valuation Report, covering the sale of 342 companies from seven different categories, shows that software companies sold for an average of 3.24x multiple last year, and up to 6.4x multiple for the most successful sale, over other categories of companies.
And the Microcap blog is predicting even stronger numbers for 2021. Based on NASDAQ data, the author concluded that small cap software company performance improved 25% over the last 18 months. While this doesn't compare to the big names, it's a good showing for companies that aren't well known, and points to the ongoing value and success of software companies across the board.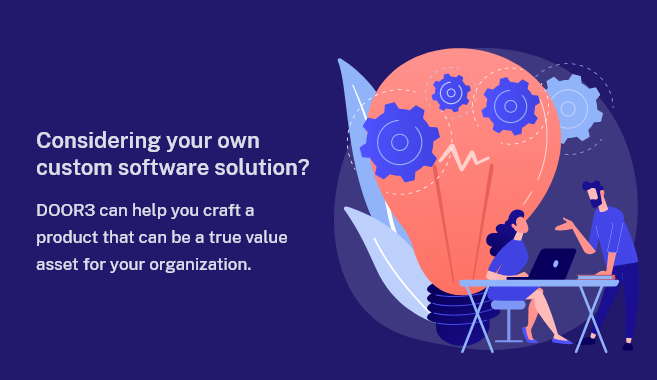 Considering your own custom software solution? DOOR3 can help you craft a product that can be a true value asset for your organization. Or if you are currently running on your own custom-built software, DOOR3 can help you support it. Our legacy application modernization services can help improve your outdated applications, integrating them with modern systems, and leveraging the latest technologies to improve business operations. Let us know how we can help you create value for your business.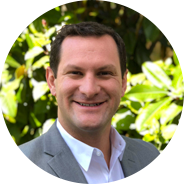 Need more help?
Talk to a UX expert
Discover the Power of Seamless Interactions
Use our price calculator
Let us help you enhance your user experience