Legacy System Modernization: Signs Your Legacy System Needs to Be Replaced Immediately
08.09.2021
In today's fast-moving world, companies that want to attract the best talent and deliver the most value for their customers are finding themselves with no option but to adopt new technologies. With so many so-called 'perfect solutions' available, it is not an easy task to choose the right system to adopt. The decision on which solution to invest in is an important one and can affect the company years after making the purchase.
That is why it is important to ensure that the company clearly understands its needs and the options available. In this article, we'll discuss legacy system modernization and how we can help you get the perfect solution for your company.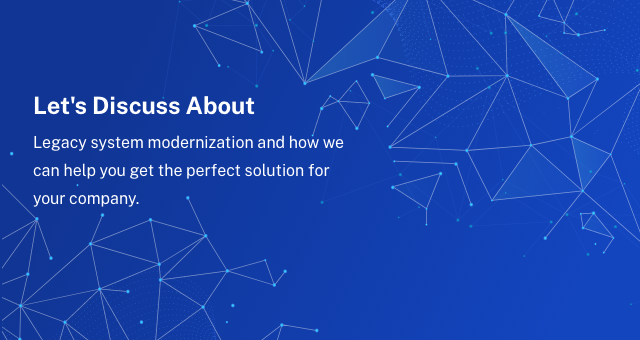 What is a legacy system?
The term legacy system describes an IT infrastructure that is outdated and no longer meets many of the company's. In most cases, the system's infrastructure is bulky, expensive to maintain, slow to process commands, and not very secure. Continuing to use such a system costs the organization a lot of money and drastically limits employee's contributions.
What is legacy system modernization?
Legacy system modernization is a process of upgrading an organization system gradually or by performing an overhaul. Modernization can also include expansion of the legacy system capabilities or partial upgrade of features as well as full migration of legacy systems to modern platforms.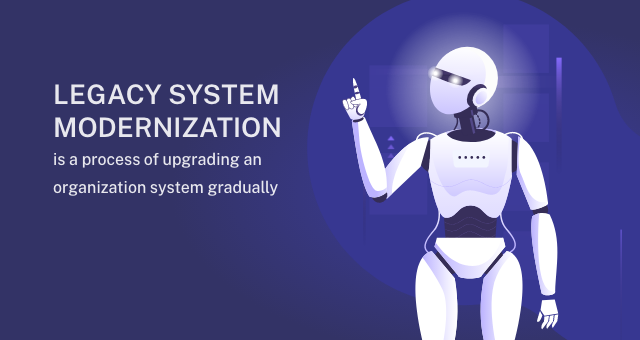 Things to Consider While Choosing the New System
Many solutions are now available to organizations that need to undertake legacy system modernization. While this is a good thing, it makes choosing the perfect solution more complex. Engaging a professional who understands how to choose and deploy the system will help you invest in the right solution.
Below are some of the factors to consider while choosing the right solution:
1) Cost
Just because a solution is expensive and has many features doesn't mean it is the perfect fit for your company. You may not need most of those features that make the solution expensive. Instead, we help you come up with a list of the most important features for you and use that as a base point while evaluating the options available.
Our approach considers the solution's ability to grow with you as well as its cost. We help you in evaluating your future needs and the cost of scaling the solution in the future. Remember, cheaper solutions might also have many technical problems that translate to the solution costing more in the long run.
2) Ease in Adoption
Consider how easy it will be for your team to adopt the solution and operate it without any assistance. Avoid systems that are too complex to learn and operate because the team's productivity may be lowered. We build a solution that is easy to operate based on your team's technical expertise.
Should you decide to settle on a complex solution, we help you in preparing your team for the new system. We do this by identifying the areas that require more attention during training and focusing more on them to ensure that the whole team is ready to use the solution.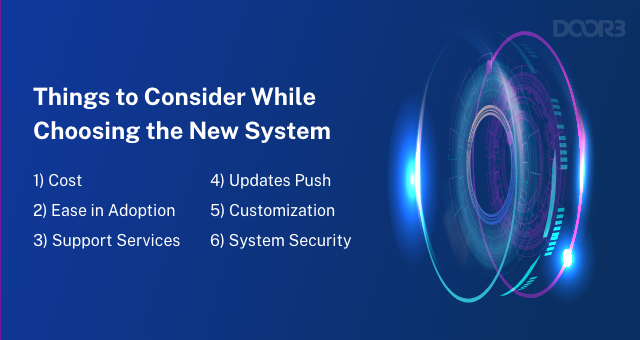 3) Support Services
Consider the type of support services that will be provided by the vendor and the duration, after the sale, that they'll continue to provide support. Solutions that come with bug fixing services are better for a business that doesn't an in-house team capable of rectifying system issues. Talk to the client's other customers where possible to understand their services better.
4) Updates Push
Solutions that are continually updated are better and are more likely to remain valuable to the business for a long time. Consider the frequency of the updates and the skills required to update the solution.
5) Customization
Consider how customizable the solution is as this increases the capability of meeting your company's needs. A solution tailored to your business needs is more efficient because it increases your team's performance.
Be cautious with this because a highly customizable solution can become too cumbersome to deploy and maintain. This type of solution will probably cost more to acquire than the rigid solutions.
However, the rigidity and simplicity of such a solution can fail to meet your company's needs effectively. Engaging a professional will help you strike the right balance between simplicity and cost.
6) System Security
Consider how secure the solution is from external and internal interference. For external interference, consider how safe the data handled by the system is from cyber attacks. For internal interference, consider its organization in terms of access permission levels.
Remember that a good system will restrict the user to only access what they require to perform their job. Even though a more organized system may cost more, it can be worth it, if it secures the company's sensitive data.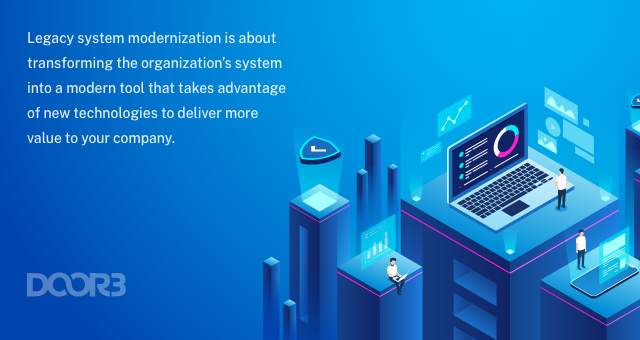 Why Do You Need Legacy System Modernization?
Legacy system modernization is about transforming the organization's system into a modern tool that takes advantage of new technologies to deliver more value to your company.
Below are some of the reasons why you should consider legacy system modernization.
It can help in creating a competitive advantage for your company. A modern system can increase your team's productivity, improve customer service, and reduce the cost of production.

Increased security to reduce the risk of the company's sensitive data being accessed by unauthorized people. It also ensures that there is stability in how the processes are handled by the system.

Increased accuracy of the company's data. This is possible when you have a system that is designed to reduce human error. This is achieved by integrating machine learning features that help auto-complete and auto-suggest entries for their users.

An agile system ensures that it can accommodate future upgrades in the IT stack. These changes make it possible to scale up as the company grows without having to procure another system.

Modernized systems also allow an organization to comply with new data privacy regulations. Data governance has a very sensitive issue. Many laws have been passed and others are being proposed to control how users' data is collected and utilized.
Related: 4 Reasons to Conduct Legacy Migration: Unlock Potential
Signs Your Legacy Systems Need Modernization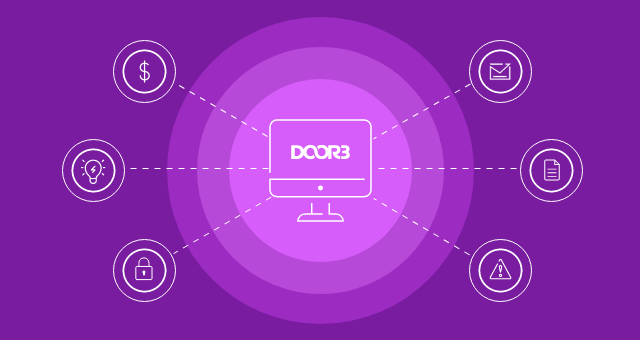 Below are signs that you should look out for to know when it's time for legacy system modernization.
1) Weakened security
Every day, there are new cyber threats that a reliable system is expected to stop without any interrupting its operation. To achieve this, systems have to continually be updated with new security features to keep up with the complexity of new threats. When a vendor stops providing new updates on a system, it becomes vulnerable and this puts the business operations at risk.
Security can also be weakened by the addition of platforms on which the system can be accessed from. It is important to ensure that security is not sacrificed for increased system capacity.
2) Increased Maintenance Cost
As the company grows and seeks to increase its effectiveness, it burdens the system with more work. For instance, when a business expands and creates more data entry points, it can overwhelm the system with the number of increased queries. This can cause the system to crash often, leading to expensive downtimes.
Also, as the system becomes outdated, it becomes more difficult to purchase the items required to keep it running smoothly. Keeping tabs on the maintenance cost to ensure that the system doesn't overburden the business will help know when it's time to modernize.
3) Compliance Problems
Compliance requirements keep on changing to suit the current security and audit needs. When the legacy system becomes unable to handle the current requirements, it's time for legacy system modernization. This will save the business a lot of money on fines and penalties.
If the legacy system faces challenges complying with the regulatory requirements but minor upgrades help resolve them, it is still important to consider modernization to avoid the costly minor upgrades. This is because for most legacy systems minor upgrades mean more downtime and possibilities of malfunctions if there is a bug in the upgrade.
4) Competitors Advancement
If the business competitors are adopting modern systems that give them a competitive edge in terms of service delivery, customer experience, and operations efficiency - it's time to consider modernizing. Most legacy systems are operations-oriented while modern systems combine both operations effectiveness and user experience.
In most cases, when competitors modernize they attract more customers while still improving their employees' morale. Modernizing the system opens doors for more opportunities such as increasing the number of platforms that can be used to reach the customers. This makes modernizing in some cases a necessary step for business survival.
5) Productivity Decline
Business systems are expected to help the business harness the benefits that come from employees' collaboration and communication. This is why most modern systems have communication and interactive board features.
When productivity declines because people have to physically attend meetings or share their progress on emails, that is a sign that it's time for legacy system modernization.
Our Six-Step Process for Legacy System Modernization
Legacy system modernization is a process that is guaranteed to offer a lot of benefits when well executed. However, if implemented without caution it can easily turn out to be an over-prized ineffective system that slows down your operations.
Below are the six steps you should follow while undertaking legacy system modernization: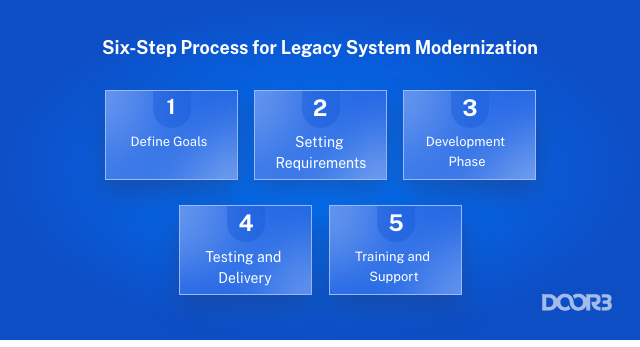 1) Define Goals
The first step is to evaluate the existing system and the role it plays in your company's operations. This will expose its shortcomings and help craft a path towards modernization. From this analysis, we set the objectives of what the modern system is expected to achieve when perfectly deployed.
It'll also help you select the re-architecture or re-platforming that the company can accommodate with its current budget and operations. Just like any other business venture, modernizing a system is an investment that is supposed to show measurable value for money spent.
2) Setting Requirements
After identifying the needs, define the platform options that are available or need to be developed to meet your organization's needs.
The decision on whether to buy a packaged solution or build the solution on Java, reactJS, Ruby, Salesforce or another language is made at this point. At this stage, we will also agree on the schedule, cost, and estimated timelines to ensure that we align our efforts with your expectations.
3) Development Phase
If you choose a custom solution, we convert the expectations into an operational solution that meets the listed needs. The plan is further broken down to ensure that all features proposed work seamlessly before delivery.
Our database analysts configure the system to ensure the client's data is safe within the new system. Programmers and designers create a system that is operations-oriented and user-friendly. We also subscribe to all the APIs and services that the system will require to deliver maximum value to your company.
4) Testing and Delivery
Before we can proceed to system deployment, all the system's features are thoroughly tested with either past data or synthetic data mimicking the real data. All the bugs are reported and corrected until the system no longer shows any error while implementing the operations. We also work with your team and make adjustments based on the feedback given.
In some cases, we'll perform a gradual rollout to ensure that errors that might arise don't bring the whole company to halt. By doing this small errors are corrected early enough to avoid major downtimes.
5) Training and Support
We also take time to create detailed manuals of how the system works and train your team on how the system works. This ensures that the system migration is seamless and the team is well acquainted with all the system's features. After deployment, we provide you with technical support services and ensure that any issues that arise are fixed fast.
Conclusion
Legacy system migration provides an opportunity to maximize employees' contributions by tapping into their skills and optimizing operational processes. You should closely monitor your system to understand the value it is providing and capture the areas where it is falling short.
DOOR3 is here to guide you on your legacy system modernization journey. We migrate Access, Delphi & FoxPro by analyzing your legacy system, designing a custom solution to meet your needs, and working with you to deploy as well as commission the new system.
Our team of experts has a lot of experience in delivering reliable modern systems within a short period of time. Start your legacy application modernization journey here!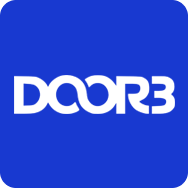 Need more help?
Talk to a UX expert
Discover the Power of Seamless Interactions
Use our price calculator
Let us help you enhance your user experience