DOOR3's Successful Barcelona Practice Lead Summit
As things stand today, most DOOR3 employees work from their homes in either the US and Europe. While we have an office in New York to host clients and support in-person work, most of the time, we're working from our home offices.
Because there is no substitute for being in a room together, sitting across a table, sharing ideas at a bandwidth unconstrained by Google Meet, all of DOOR3's leadership convened in Barcelona for a company summit that aimed to be just as joyous as it was to be productive.
Summit Agenda Items
The week in Barcelona included many focused meetings on topics pertinent to maintaining our market advantage. Conversations about DevOps, sales, and UX were supported by powerpoints and met with vigorous feedback.These meetings were deliberate and high intent, focusing on bringing minds together to tackle the complex challenges each discipline is currently facing.
While some of the meetings during this summit were strategic, others were focused on encouraging a supportive work culture. Topics like company values, the 2023 goals of practice leads, and even the opportunity to "name your pain" made it on the agenda for the summit. These in person conversations started with a central idea that quickly grew. Thoughts bounced back and forth like table tennis, and soon practice leads shifted towards the whiteboard, developing new avenues for their original idea. It was as if water cooler talk had reopened a sense of discovery in their work.
Work Hard Play Hard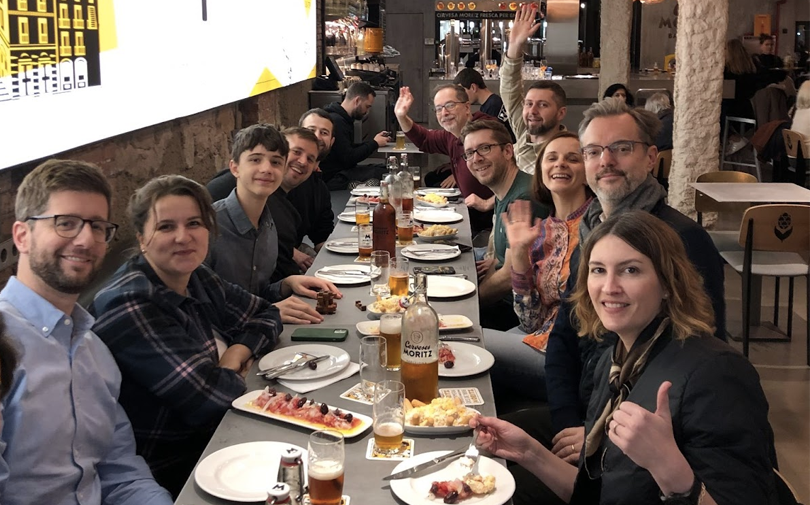 There is one other element that remote work can't provide, no matter how much the technology advances.
Nothing can replace the bonding that occurs between people over food and drink.
The DOOR3 team made sure to keep this a priority. Taking time after each day of meetings to celebrate all the successful ideating over the fantastic food of the region. The team spent more time together in one week than they had over the past year, laughing, smiling, and sharing food and stories around some very long tables. Colleagues who had been working together for years met for the first time and celebrated all they had accomplished, teammates brought their kids to introduce to their trusted coworkers, and flights home were full of sleepy and satisfied team leads, ready to share the enthusiasm gained with the rest of their team.
The DOOR3 summit in Barcelona was a wildly successful event, and we look forward with optimism and hope to 2023.
Need more help?
Talk to a UX expert
Discover the Power of Seamless Interactions
Use our price calculator
Let us help you enhance your user experience