Empowering your team with custom solutions built by a top NYC manufacturing software development company.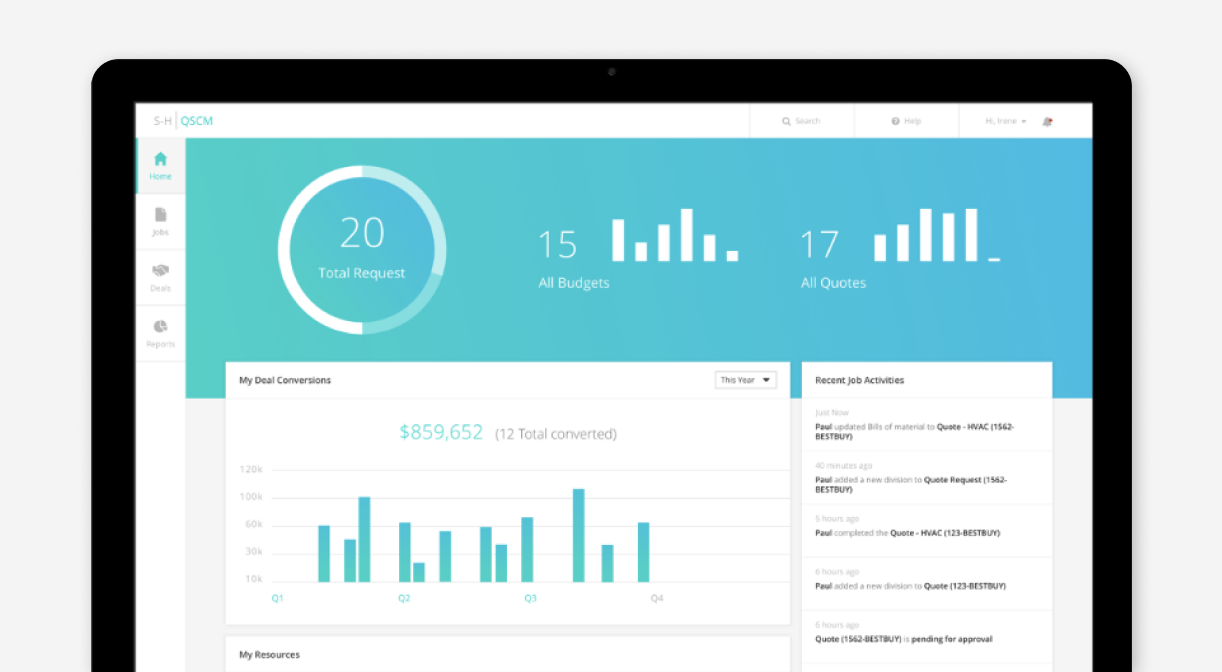 At DOOR3, we are driven by our passion for cutting-edge software development in the manufacturing industry. As a premier manufacturing software development company, our mission is to be your trusted partner in transforming your business processes through custom manufacturing software development, propelling your business towards unparalleled success.

Our focus as your manufacturing software development company is on designing and developing custom solutions that leverage next-generation technologies to automate your business processes and enhance day-to-day operations. Whether you are a startup, an SME, or a global enterprise, our full spectrum of manufacturing software development services are designed to cater to your specific needs, ensuring your business objectives are met swiftly and efficiently.

The team that makes up this manufacturing software development company is composed of expert software engineers that excel in crafting tailored solutions that seamlessly integrate into your existing workflows, optimizing efficiency and reducing manual intervention. We understand that solutions in software development for manufacturing demand a personalized solution. With extensive experience in the manufacturing domain, we comprehend the unique challenges and opportunities your industry faces, enabling us to tailor our solutions to address your specific pain points effectively.
Why should your business partner with a manufacturing software development company?
Addressing your unique business needs

Every company in manufacturing planning software development as a means to increase operational efficiency will have different requirements. With each company having its own set of processes, workflows, and objectives, an off-the-shelf software may not align perfectly with your specific needs, leading to inefficiencies and limitations. A custom software solution is designed to fit your business like a glove, addressing your unique challenges and streamlining operations for maximum efficiency.

Seamless integration with existing systems

Your current IT infrastructure and systems play a critical role in your manufacturing operations, and our role as a manufacturing software development company is to not interrupt those critical processes. With a custom manufacturing software solution, you can ensure seamless integration with your existing systems, avoiding disruptions and data incompatibility issues. This integration allows for smoother implementation and ensures that data continuity is maintained.

Increased efficiency and productivity

Our process for manufacturing software application development always keeps your specific processes and requirements in mind, optimizing workflows and automating manual tasks. By reducing redundant processes and human errors, a custom solution enhances overall efficiency and boosts productivity. This leads to faster production cycles, reduced lead times, and improved resource utilization.

Data-driven decision making

Access to real-time and accurate data is crucial for making informed business decisions. A custom manufacturing software solution provides you with comprehensive and up-to-date insights into your operations. With detailed analytics and reporting tools, you can analyze trends, identify bottlenecks, and make data-driven decisions to improve your business performance.

Enhanced quality control and compliance

Quality control is paramount in manufacturing, ensuring that products meet industry standards and compliance regulations. We make sure the solutions we provide as a manufacturing software development company can incorporate stringent quality assurance measures to match your business objectives, ensuring consistent and high-quality output. This improves customer satisfaction and helps maintain a strong brand reputation.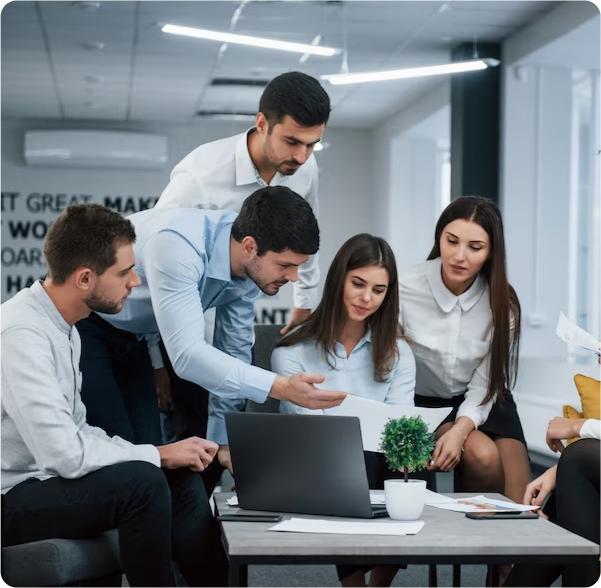 Why choose DOOR3 as your manufacturing software development company?
Expertise in the manufacturing industry

We have a deep understanding of the manufacturing domain, with years of experience working with clients across various manufacturing sectors. Our team of software engineers possesses the expertise to comprehend your unique challenges and opportunities, enabling us to craft tailored solutions that align perfectly with your business goals.

Custom solutions for your specific needs

At DOOR3, we take a holistic approach to manufacturing software development. We take the time to listen to your requirements, understand your processes, and design custom software solutions that precisely match your needs. Our solutions are built to optimize your workflows, streamline production, and enhance efficiency, resulting in a competitive edge for your business.

Innovation at the core

While another manufacturing software development company might rest on old and familiar technologies, we embrace cutting-edge technologies and methodologies to deliver innovative solutions that drive real, measurable impact for your manufacturing operations. Our team stays abreast of industry trends, ensuring that our software solutions leverage the latest advancements to keep you ahead in the market.

Proven track record of success

With a rich portfolio of successful projects, DOOR3 has demonstrated its ability as a manufacturing software development company to deliver results that surpass expectations. We take pride in our track record of satisfied clients and successful implementations, solidifying our reputation as a trusted partner in the manufacturing industry.

Customer-centric approach

At DOOR3, your success is our success. We work collaboratively with you throughout the development process, taking into account your feedback and evolving needs. Our customer-centric approach ensures that your voice is heard and your vision is brought to life in the final product.

Comprehensive range of services

Whether you require web, mobile, desktop, or cloud applications, DOOR3 has you covered. Our comprehensive range of services as a manufacturing software development company caters to all your tech needs, empowering you with the right tools to excel in a competitive landscape.

Long-term partnership and support

We believe in building strong long-term relationships with our clients. Beyond the development phase, our team provides ongoing support and maintenance to ensure your software solution remains reliable, up-to-date, and continuously optimized for your evolving business needs.

Industry recognition and awards

DOOR3's commitment to excellence and innovation has earned us recognition and awards within the technology and software development industry. Our accolades are a testament to our ability to deliver high-quality products that drive tangible results.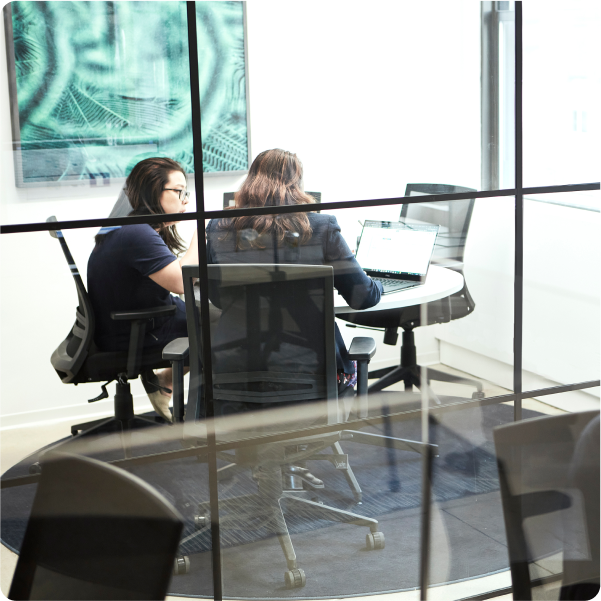 Realizing manufacturing excellence through custom software solutions
At DOOR3, we take pride in our ability to deliver real and tangible results for our manufacturing clients. Here is a prime example of how our custom software solutions have empowered manufacturing companies to achieve excellence and overcome challenges:
"The quality has been excellent. They did a great job meeting with our stakeholders and salespeople to get their feedback and make sure they were getting it right the first time."
Sr Product Mgr,
Personal Protection Equipment Manufacturer
Our streamlined manufacturing software development process
1

In-depth industry analysis

We begin our work as your manufacturing software development company by conducting an in-depth analysis of your manufacturing operations, delving into the intricacies of your production processes, supply chain, and quality control measures. Our team of experts collaborates with your key stakeholders to gain a comprehensive understanding of your specific challenges and goals.

2

Requirements mapping and solution design

Based on the insights gathered, we meticulously map out the software requirements that align with your manufacturing workflows. We prioritize your critical needs and design a custom solution that addresses pain points and streamlines processes. Our design phase emphasizes real-time data capture, predictive analytics, and user-friendly interfaces for enhanced user experience.

3

Integration with manufacturing systems

A seamless integration with your existing manufacturing systems is crucial for success. Our development team ensures that the custom software solution seamlessly interacts with your ERP, CRM, and other essential manufacturing systems. This integration optimizes data flow and eliminates data silos, providing a holistic view of your operations.

4

Testing and quality assurance for manufacturing excellence

Quality control is at the heart of both software development and manufacturing. Our software engineers conduct rigorous testing and quality assurance to ensure that the custom solution performs flawlessly in your manufacturing environment. We prioritize system reliability, data accuracy, and compliance to industry standards.

5

Implementation and continuous improvement

With a thorough understanding of your manufacturing processes and a tailored software solution, we guide you through a smooth implementation process. Our team collaborates with your staff to provide comprehensive training for seamless adoption. Post-implementation, we stay committed to continuous improvement, fine-tuning the software based on your feedback and evolving needs.
Custom manufacturing software services and solutions: empowering your industry
Production planning and scheduling software

Streamline your manufacturing processes with our custom production planning and scheduling software. Gain real-time visibility into production milestones, resource allocation, and production line efficiency. Reduce lead times and enhance on-time delivery for improved customer satisfaction.

Inventory management solutions

Stay on top of your inventory with our custom inventory management solutions. Achieve optimal stock levels, minimize stockouts, and reduce holding costs. Our software provides automated stock notifications and efficient supply chain management.

Quality assurance and compliance systems

Ensure consistent product quality and compliance with our custom quality assurance and compliance systems. Track and monitor quality metrics throughout the production lifecycle, leading to reduced product recalls and enhanced brand reputation.

Supply chain optimization

Optimize your supply chain with our tailored software solutions. Enhance supplier collaboration, optimize transportation routes, and improve demand forecasting. Our solutions enable a seamless and efficient supply chain network.

Asset tracking and predictive maintenance

Enhance asset management with our custom asset tracking and predictive maintenance software. Gain real-time insights into equipment health and performance, enabling proactive maintenance to minimize downtime and extend equipment lifespan.

Remote asset management

Monitor and manage your manufacturing assets remotely with our customized remote asset management solutions. Gain control over critical assets and maintain equipment uptime even from remote locations.

Custom CRM and ERP systems

Unlock the power of data-driven decision making with our custom CRM and ERP systems. Integrate sales, production, and customer data to optimize business operations and streamline workflows.

IoT-enabled solutions for manufacturing

Embrace the Industrial Internet of Things (IoT) with our IoT-enabled solutions for manufacturing. Leverage sensor data and analytics to enhance real-time process monitoring and predictive maintenance.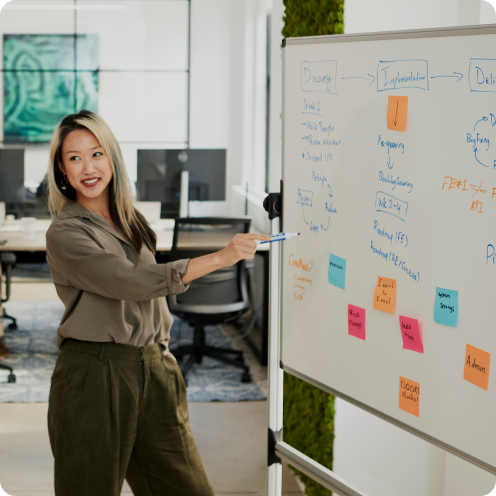 Need more help?
Customized Solutions to Drive Success

Discover the Possibilities with a Free Quote
Unleash the Potential of Your Project

Share Your Requirements with Us
The trusted manufacturing software development company for business leaders
Custom software products for the manufacturing industry
Manufacturing logistics software development

With DOOR3 as your manufacturing software development company, you can facilitate the seamless coordination of raw materials, inventory management, production schedules, and distribution, ensuring smooth operations and minimizing delays. By integrating real-time data, analytics, and automation, manufacturing logistics software enhances supply chain visibility, reduces operational costs, and enables businesses to respond swiftly to changing market demands. These products could take the form of an MRP, MES, or something totally unique to your needs!

Automated quality control system

A customized quality control system that automates quality checks and inspections, ensuring consistent product quality and adherence to industry standards.

Remote equipment monitoring platform

An IoT-powered platform that enables remote monitoring and predictive maintenance of manufacturing equipment, reducing downtime and maintenance costs.

Workforce management software

A customized workforce management solution that streamlines employee scheduling, attendance tracking, and performance management, ensuring an efficient and productive workforce.

Supplier collaboration platform

A platform that facilitates seamless collaboration with suppliers, enabling better communication, inventory management, and supply chain optimization.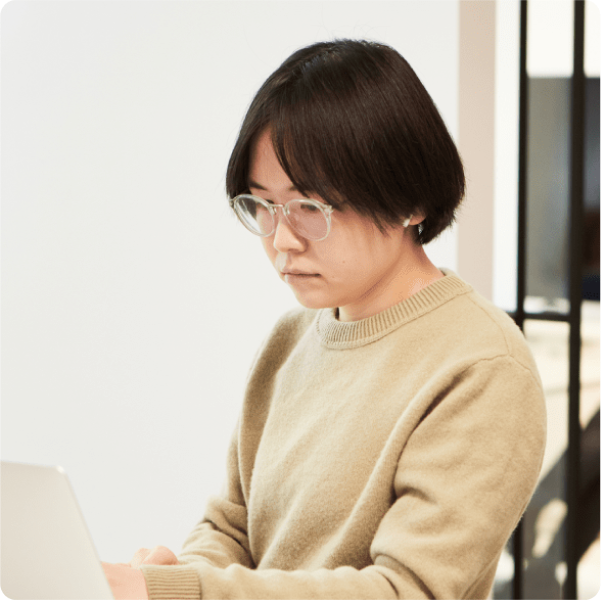 Trending technologies for custom manufacturing app development
Internet of things (IoT)

IoT-enabled devices and sensors are transforming manufacturing operations by providing real-time data from machines and equipment. Custom manufacturing apps integrated with IoT allow for remote monitoring, predictive maintenance, and improved asset management.

Artificial intelligence (AI) and machine learning (ML)

AI and ML algorithms empower manufacturing apps to analyze vast amounts of data, enabling predictive analytics, quality control, demand forecasting, and process optimization. These technologies enhance decision-making and reduce human errors.

Cloud computing

Cloud-based custom manufacturing apps offer scalability, flexibility, and cost-effectiveness. Cloud platforms enable easy data storage, seamless collaboration, and access to applications from any location.

Performance optimization

We understand the importance of fast-loading websites and applications. As your front-end development company, we employ optimization techniques to ensure your solution performs at its full potential. By optimizing performance, we enhance user experience, increase conversion rates, and improve search engine rankings.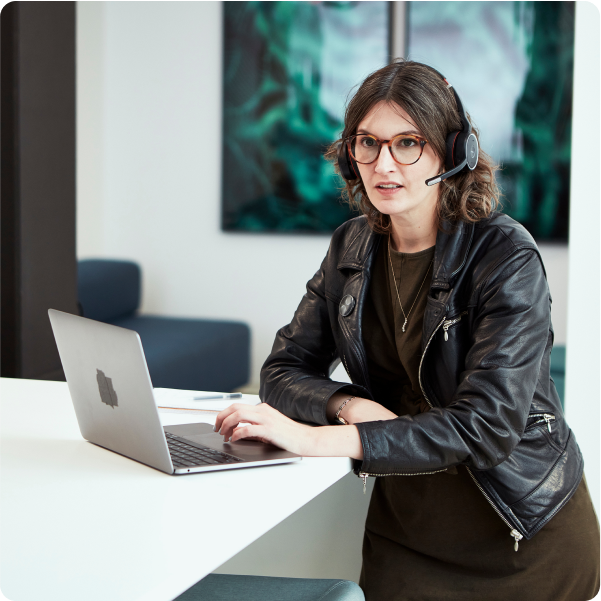 Empowering intuitive operations through a positive user experience
Intuitive design for seamless workflows

Our team of experts meticulously designs manufacturing software panels with an intuitive layout, prioritizing simplicity and clarity. We ensure that the most critical functions are readily accessible, streamlining your team's workflows and boosting productivity.

Real-time data visualization

To enhance decision-making, our manufacturing software panels offer real-time data visualization through interactive charts, graphs, and dashboards. Your team can gain actionable insights at a glance, facilitating faster responses to production changes and demands.

Customizable panels for personalized use

Recognizing that each manufacturing operation is unique, we offer customizable software panels that can be tailored to fit your specific requirements. Whether it's rearranging widgets, adding personalized shortcuts, or adjusting data views, we empower your team to work in a way that aligns with their preferences and needs.

Responsive design for any device

Our manufacturing software panels are designed with a responsive approach, ensuring optimal performance on various devices, including desktops, tablets, and smartphones. Your team can access critical information and manage operations on-the-go, enhancing flexibility and efficiency.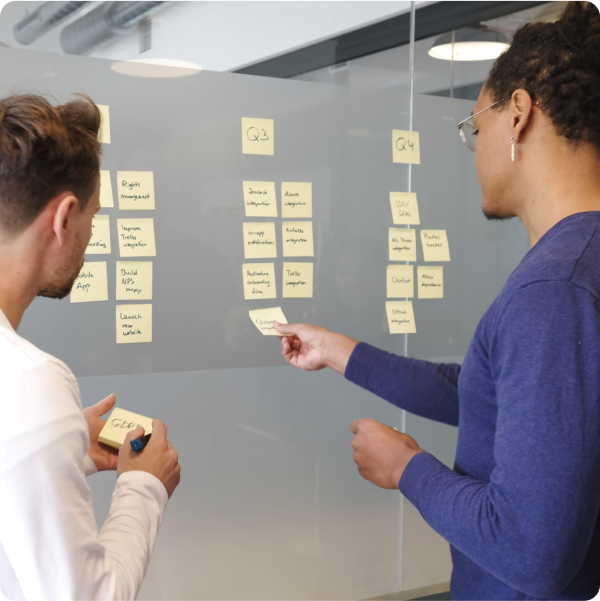 Meet the specialists that make up our manufacturing software development company
At DOOR3, we take immense pride in our dedicated team for custom manufacturing software development. Our consultants bring a wealth of expertise and innovation to the table and are seasoned professionals with a deep understanding of the manufacturing industry's unique challenges and requirements.
Stefan Berreth

Director of Principal Consulting

Dima Kushch

Engineering Practice Lead

Tom McClean

UX & Design Practice Lead
Quick facts about DOOR3
Get to know DOOR3, your trusted manufacturing software development company. Here are some fun facts about our company:
+

+

+

driven and talented professionals
Your questions answered
What services does your manufacturing software development company offer?
At DOOR3, we provide a comprehensive range of custom manufacturing software development services, including production planning and scheduling software, inventory management solutions, quality assurance systems, supply chain optimization, asset tracking, and more.
How is your custom manufacturing software development different from off-the-shelf solutions?
Unlike off-the-shelf solutions another manufacturing software development company might provide, our custom software solutions are tailored to fit your unique business needs and manufacturing processes. Our manufacturing software development services offer personalized features, seamless integration with your existing systems, and scalability to adapt to your business growth.
Can your manufacturing software solutions be integrated with our ERP and CRM systems?
Yes, our work as a manufacturing software development company includes seamless integration with various ERP and CRM systems. This ensures a unified data flow across your organization, optimizing efficiency and enhancing data accuracy.
Do you offer lean manufacturing software development?
Our team of experts specializes in developing custom software solutions for various manufacturing processes, including lean manufacturing in software development, logistics management, production planning, quality control, and more. We tailor solutions to match your unique business requirements.
How do you ensure data security and confidentiality in your manufacturing software development?
Data security and confidentiality are paramount to us as your manufacturing software development company. We follow industry best practices to implement robust security measures, including encryption, access controls, and regular security audits, to safeguard your sensitive manufacturing data.
Can your manufacturing software solutions be accessed on mobile devices?
Yes, we prioritize responsive design in our manufacturing software development, ensuring that your custom applications can be accessed on desktops, tablets, and smartphones. This enables your team to access critical data and manage operations on-the-go.
Can your custom manufacturing software help improve production efficiency and reduce operational costs?
Absolutely! Our custom manufacturing software solutions are designed to optimize production processes, enhance efficiency, and reduce operational costs. By streamlining workflows and providing real-time data insights, our solutions lead to tangible improvements in productivity. Unlike other manufacturing software development companies, our business analysts take a holistic approach to building software solutions that fit your precise needs as opposed to general fixes for operational inefficiencies.
How do you ensure user-friendliness in your manufacturing software panels?
Our UX/UI designers focus on creating intuitive and user-friendly manufacturing software panels. Through extensive user testing and feedback, we ensure that the panels are easy to navigate, allowing your team to work efficiently and effectively.
Can you provide ongoing support and updates for our manufacturing software solution?
Yes, our partnership extends beyond development. We offer ongoing support, maintenance, and regular updates to keep your manufacturing software solution optimized and aligned with your evolving business needs.
What makes your manufacturing software development company stand out from others in the industry?
At DOOR3, there are a few things that help us stand out as a manufacturing software development company. Our key differentiators include a specialized team of industry experts, cutting-edge technology integration, personalized solutions, seamless integration with existing systems, and a customer-centric approach, ensuring manufacturing success on a global scale.
What are some characteristics of manufacturing that apply to software development?
Manufacturing often involves iterative processes to improve product designs and production efficiency. Similarly, software development follows iterative methodologies like Agile, where continuous feedback and improvements lead to better software products. Both fields also rely heavily on efficiency and optimization, as well as precision to ensure product quality.