Connecting a global law firm on one award-winning intranet
For companies that do business across borders, sharing information among offices and keeping everyone on the same page can be challenging. Cadwalader, Wickersham & Taft LLP believed that DOOR3 could provide the solution, and sought to create a unified intranet that enabled efficient knowledge management and easy collaboration for the sizable global firm.
Million documents & records
Our Challenge
To build a secure, flexible intranet that could connect the firm's global workforce
Cadwalader employees had been working with disparate applications, paper-based tracking systems, and underutilized financial reporting tools for too long. The firm's Knowledge Management Initiative Team came to DOOR3 with the hope of creating one unified portal that could place all of Cadwalader's extensive resources at employee's fingertips while also connecting the global offices and creating a more collaborative culture. Security was of prime importance too, meaning the project would involve a complicated set of permissions and requirements.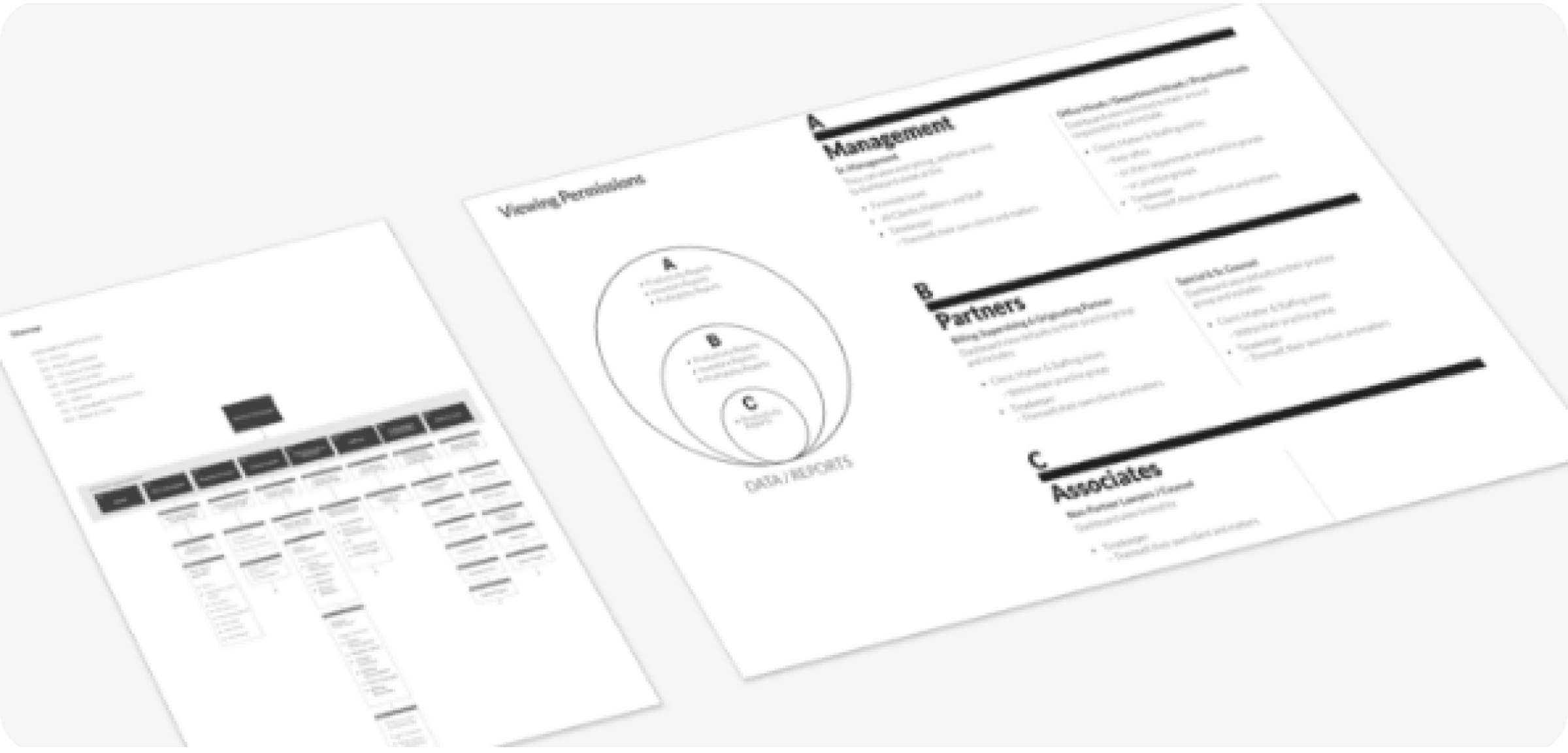 Our Process
All the firm's applications and information in one unified intranet
To address Cadwalader's complicated requirements, DOOR3 mapped the law firm's organization to eight distinct user personas and, through interviews and insights from site traffic patterns, came up with a plan that would satisfy the unique permissions and needs of each role. Utilizing a lean development process to get an MVP in place quickly, our team created a more modern, streamlined design, and consolidated the firm's core applications and technology to pave the way for future applications and mobile implementations.
Our Solution
A modern design solution for an insurance flagship portal supported by scalable technical infrastructure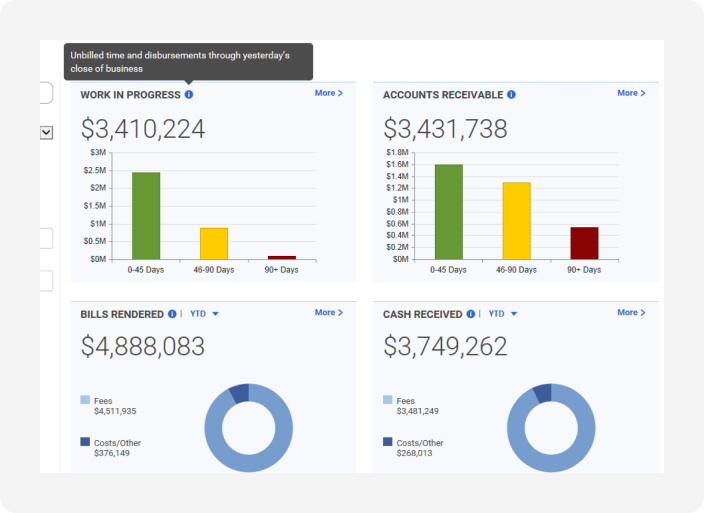 All the firm's collective knowledge accessible in one place

For the attorneys at Cadwalader, time is literally money, so our solution focused on an efficient knowledge management solution that would speed up tasks that used to be time-consuming and give employees easy access to the depth of content and experience that was once spread across the firm. The most prominent feature of Cadwalader Connect is its large search bar, which immediately prompts user to find the information they're looking for quickly and accurately with guided search; no more sifting through the firm's more than 35 million internal documents and records.
A simple tool that allows partners visibility into ongoing work

For partners at the firm, managing the financial health of their accounts is crucial to success. Cadwalader Connect introduced a new partner dashboard view that is updated every night with the latest quartile rankings, client profitably numbers and other useful metrics from the firm's financial platform. By replacing an outdated and underutilized reporting system and integrating it into one central experience, Cadwalader Connect makes it easy and efficient to monitor the financial health of accounts and departments and glean powerful, actionable insights from the firm's data.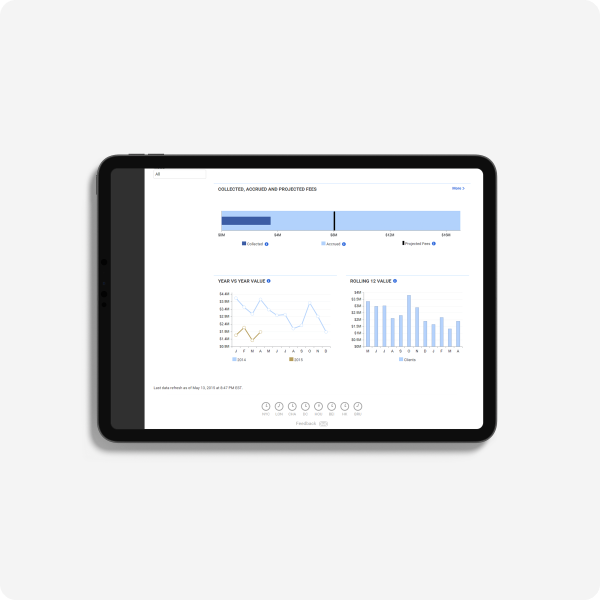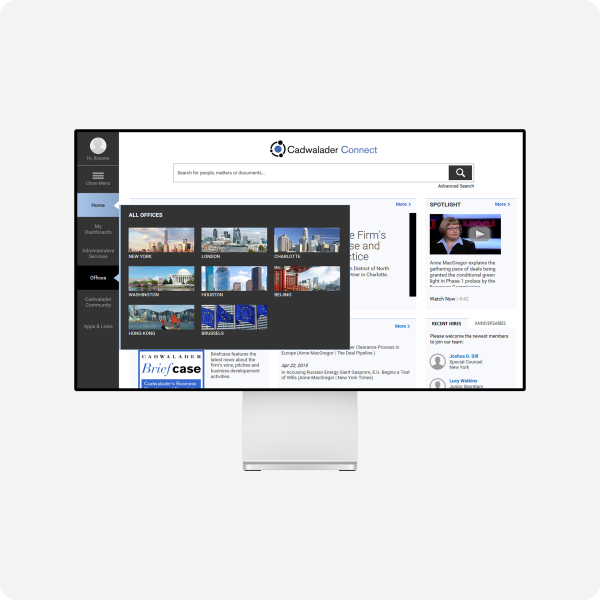 A unified platform that connects the firm's 400 lawyers

Until Cadwalader Connect, the firm's various locations had to rely on local portals with no easy visibility into the work being conducted by other offices. By connecting the international network on one unified intranet, lawyers gain access to a wealth of experience, documentation, and invaluable resources in the form of their fellow employees. Advanced firm directory search capabilities make it easy to find professionals with specific experience and skill sets in various areas of the law, making it frictionless for Cadwalader's attorneys to collaborate on a global scale.
"Cadwalader Connect allows us to leverage powerful tools to efficiently manage our business, strengthen internal and external relationships, provide efficient access to data, and deliver exceptional legal services to our clients."
Patrick Quinn,
Managing Partner, Cadwalader