Hiring, staffing, and recruiting! Finding the best fit for different roles
A company needs to hire top talent to succeed financially and as a team. There are many different ways in which a company recruits its employees. Because it is a time-consuming process, finding out too late that a candidate is not a good fit for the position or business is a critical setback.
In this post, we take a deep dive into common staffing, recruiting, and hiring processes and share some insights from DOOR3's hiring methods to help refine your hiring practices.
Qualities: What you should look for
In a consulting company, the roles are divided in several ways, so it is difficult to offer a concise explanation. On a fresh start at DOOR3 in a mid-level execution role, an employee deals with reading requirements and coding against those requirements. They will not spend a lot of time asking clients many questions to get a detailed and strategic view of the project. So, we can hire people based on their discipline-level technical skills.
However, technical skills do not just mean technology. For example, if you are a UX designer, your value lies in your ability to design visual components. Even so, we can plan for the future and say, "Even if a person gets hired at a junior or mid-level, after six months or a year, they will be confident enough to run a workshop with a client."
What qualities should you look for in order to hire people capable of graduating to additional responsibilities easily? The key is to hire based on qualities rather than only qualifications.
Empathy
"Connection is key."
Hearing and understanding someone is more essential than being able to speak at length on a given topic. A team member should be able to get to the heart of what someone else is saying. This is because the meaning of what people say often lies in the context and associations in which they speak or in the way they say something rather than the words themselves.
"An empathetic, great conversational partner can help me get to the bottom of what I am trying to say." - Alex Asianov (Founder and President, DOOR3)
Facility with communication is a quality that clients appreciate as it helps them get to what is truly important quickly and efficiently.
Exercising Good Judgement
Decision-making requires weighing the pros and cons of multiple elements to reach a compromise on the best path forward. People who exercise good judgement are willing to push hard without losing the sense of where they are in the process. They will take risks but not to the extent they risk the success of the project as a whole.
For an example of this kind of foresight, consider the explorer Ernest Shackleton's famous Antarctic expedition. After observing the harsh conditions, Shackleton ordered his team to turn around, effectively ending the excursion before they even began in earnest. He made the right decision at the right time because he perceived the likelihood of tragedy rather than triumph.
We can learn from Shackleton to not overextend ourselves, especially when risks are high. Employees must know for themselves and exercise sound judgement while doing all the technical, complicated, and creative work. At DOOR3, we value teammates who are generous with our clients and highly loyal to their projects.
Attention to Detail
A candidate's presence of mind translates into the thoroughness of their work and their attention to detail. To build error-free deliverables for clients, it is critical they acknowledge all the requirements of the project down to the smallest details.
For example, Our CEO Jonathan shared a way to check for such qualities while recruiting. He would include, in the last line of job postings he wrote, a prompt to share the number to your favourite xcbd comic in the subject line of their email to the organisation. He did this for all the roles at DOOR3. It helped delete 95% of the candidates, not because they didn't read the xcbd comic, but because they never read to the bottom of the job postings.
Adaptable and Confident
In one of her recent observations while hiring, Liz Flyntz, Head of UX at DOOR3, realised that most of the specialised programs in the UX industry tend to be product-oriented. They are often not directed around the flexibility and confidence required to work on new technologies and learn on-the-fly.
In order to deliver value to clients, one of the key qualities a company should have is the ease of adapting to new environments and clients' way of business. For example, at DOOR3, we don't screen for tool specialists.
We need people who can pick up a tool set today, master it quickly, and then a new one tomorrow. It is excellent if a candidate has tool specialities that we need, but we need agile teammates to ensure long-term success. Companies need candidates who can move comfortably within diverse spaces and environments.
Adaptability is crucial for any role. Engineers need to adopt a different library than the one they have worked in the past. UX folks have to quickly understand a domain or a design system outside of their expertise. Consultants need to learn the needs of different industries and how to effectively communicate within varied contexts.
Forthrightness
Companies should hire employees to speak with clients precisely and candidly. In strong client-facing roles, it is critical to push back on client whims that do not serve the business goals and project objectives.
As a consulting firm, we solve problems that involve other parties. Our whole team must work seamlessly with the client's team and the project sponsors. These groups involve individuals with different roles that have various levels of touchpoints with the project. All the people working on a project have their own subjective view on the work. Because of this, ideas and views do not always converge coherently. Failure comes at a high price for clients and a consultant's ability to speak forthrightly can prevent project failure and the subsequent wasting of valuable resources. Being able to call out possible misunderstandings eloquently is a quality we need as companies working on diverse projects.
How to Hire Smartly
Write the Requirements Yourself
"When I want to hire, I often write the req. myself and do the screening myself. Because I find that when I pass it off to other very competent people, they fall back to bona fides." - Jonathan Blessings (DOOR3 CEO)
Usually, the hiring process starts with looking at the education and experience of candidates. However, these achievements do not indicate charisma or empathy. Also, they often do not signal problem-solving skills, intelligence, or even overall soundness of judgement.
To get the right candidate for a job profile, an honest approach that outlines the mission and screens for people whose motivations align with the impetus of the company.
For example, take a look at the advertisement that Shackleton posted for recruiting his crew members: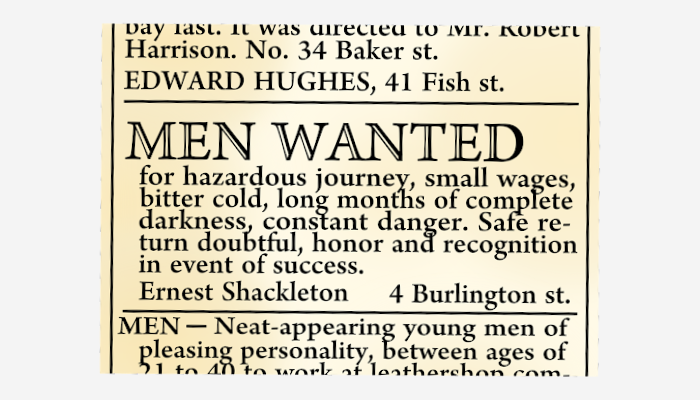 While our offices have climate control and no overt threats to life, we always ensure that what we want is present on the hiring req. loud and clear.
The Interview Process
Six months ago, DOOR3 hired a software developer. Recently, he remarked that of all the interviews he had gone through, DOOR3's interviewers never asked any programming questions.
He wanted to know why that was.
An interviewer should attempt to draw out the logical apparatus of the candidate and strength test it with logical challenges and open-ended discussions. A GPA should not matter, especially if their education took place 10-15 years ago. An interviewer should determine whether a candidate is competent, has sound judgement, and has solid analytical practices.
Use Esoteric Material
An employee should always be ready to try out new things and be able to participate in challenging conversations. A good way to test this particular quality is to discuss esoteric material, such as references to history, literature, or other scholastic areas outside of software development. It is wonderful if the candidate is able to talk about such random topics, but if they are not, that's okay too.
The test is to see if they engage with the subject. If the candidate is not asking questions, they lack curiosity and it indicates they would not be open to new ideas or learning experiences.
Ending Note:
While it is challenging to find team members who are passionate about working with new technologies and people towards a similar goal, it helps to look for certain qualities rather than qualifications. Candidates that are hard-working, collaborative, and ready to upskill themselves according to the project requirements are all qualities that every company wants.
The most difficult part of this approach to recruiting for your company is taking the leap of faith and believing in people when they say they can do it. Despite this challenge, a little vulnerability goes a long way.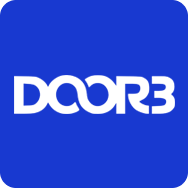 Need more help?
Talk to a UX expert
Discover the Power of Seamless Interactions
Use our price calculator
Let us help you enhance your user experience
Request a free project quote
Request a free project quote