Is Building an Enterprise App Store Right for Your Business?
05.13.2013
Large businesses have large IT issues. Amid the growing telecommuting and bring your own device cultures, security has become an increasing challenge.
Are Enterprise App Stores Worth The Effort?
Lauren Brousell, of CIO Magazine, recently wrote a great article advocating for the building of an enterprise app store. Among Brousell's reasons are:
Improve quality control
Limiting employees to company-approved apps is a great way to ensure they won't download bad apps full of malware or worse. This greater degree of control is so attractive to enterprises that "twenty-five percent of enterprises will have an app store by 2017." Another great benefit of an enterprise app store is keeping everyone updated with the same version of apps.
Allow for user feedback
IT departments can more easily monitor user behavior and measure productivity with the data associated from an app store. This data from enterprise app stores may also be used to recommend new apps and solicit employee feedback on likes and dislikes, which provides valuable data for enterprise mobile app developers.
End reliance on IT staff for simple tasks
Most people know how to download from and use a public app store. Creating a central location frees up valuable IT staff time. Brousell quotes "a survey by Partnerpedia, a mobile-app-management company, [which] found that 86 percent of enterprises want a self-service model where employees download apps themselves, thus freeing the IT staff for other tasks."
More secure than public app stores
Forrester reports that, "60 percent of firms in North America and Europe are supporting personally owned devices, which makes security tougher to manage." Brousell explains the security advantage, "With an enterprise app store, IT can prohibit the use of certain apps, such as file-sharing services that tend to spread malware.
If users complain when they can't use preferred apps on their devices, IT can set up a passageway to consumer app stores. Then if the desired app is accessed through the corporate app store, IT can still control its use."
Mobile and tablet technology have provided many great benefits to enterprises, but their sheer size has also made them more vulnerable through the way we've integrated technology into our personal and professional lives.
Fortune 500 mobile app developers are well familiar with these problems, as they work their way through the business world. If any of these challenges seem familiar to you, and enterprise app store may be the best solution for your organization.
DOOR3 has an extensive background and expertise in enterprise design and development to help your digital business run smoothly.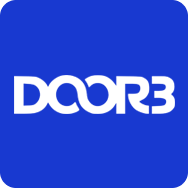 Need more help?
Talk to a UX expert
Discover the Power of Seamless Interactions
Use our price calculator
Let us help you enhance your user experience