Enterprise Design System: All the Basics You Need to Know
An enterprise design system can be a powerful tool for businesses to achieve consistency in their branding and messaging, streamline their design processes, and promote collaboration and communication among team members. By optimizing for this system, businesses can realize unexpected value and benefits that can help them stay ahead of the competition in today's fast-paced digital landscape.
Creating consistency in branding and content across the net is a daunting task for many enterprises. Enterprise design systems offer unique solutions through UX/UI design tools packaged within a simple framework to make and push updates to numerous platforms.
Moreover, the pace of development is such that organizations are pressed with a sense of urgency to unify their message and offerings as they evolve.
Creating a UX design system is complicated, even system design basics can be challenging, but once established, it delivers effortless team collaboration and additional time for creative work. In this article, we will discuss what enterprise design systems are, their importance, and how using one can add unexpected value to your business, particularly when designing enterprise applications.
What are Enterprise Design Systems?
As complex as they seem, we can define enterprise design systems in fairly straightforward terms.
"An enterprise design system is an organized collection of rules, constraints, and principles meant to streamline design processes."
Essentially, they are a platform to organize all the tools that can help businesses build a product. It is a repository of all the elements that form part of an application, a website, or any digital product. We can think of this as a visualization of a collection of rules or core principles governing the design of an enterprise.
Tom McClean, a Senior Designer at DOOR3, takes a philosophical perspective on understanding design systems: It is the one source of truth that we can all reflect back to and see as the main component, the main source of everything, critical for system design basics.
A design system acts as a master copy that people can refer to for guidance. In practice, however, this unified vision can sometimes become distorted in processes like enterprise software design.
Understanding Enterprise Design System through an Example
Having a canonical source of truth for what a given digital element will look like is system design basics, but it's also great to have its code handy as well. This intersection is where enterprise design systems help a great deal.
Companies can pull out any element from the design system and determine the defined parameters for that element. UX Designers, developers, and UX consultants can easily find answers to questions like:
What color would the element be?

What would be the boundaries?

What's the use case for this particular button?

Where should a CTA go on the page?

Where should you never use the button?

What happens when a user interacts with the element?
Overall, a design system is the amalgamation of design, code, and documentation. In the long run, every valuable element of the company must be in the system to increase ease of access and coordination.
What is NOT an Enterprise Design System?
An enterprise design system is not a "style guide".
It is a more profound and collaborative tool for designing enterprise applications. It is not a one-time job that the team gets done and marks as finished. It is a living document. A design system evolves with the needs of an enterprise, company, and teams and constantly needs to be updated, adapted, and iterated as work progresses on an enterprise software design project.
In contrast, a UI style guide is a static document that exists for a period and then would probably be redesigned from the ground up with a different level of documentation.
Importance of Enterprise Design System
A great way of understanding system design basics is to imagine you're building all of New York City's skyscrapers out of Legos. You would need a whole range of different legos to represent all the material and architectural diversity. However, instead of purchasing Legos for the undertaking, you only have pieces of plastic lying around on the floor. You have to physically mold this plastic into pieces that could be used to build skyscrapers.
Read: Integrated Systems Design: Creating Harmony in Technology
What Would Happen Without any Enterprise Design System?
Every custom basic component must be created from scratch.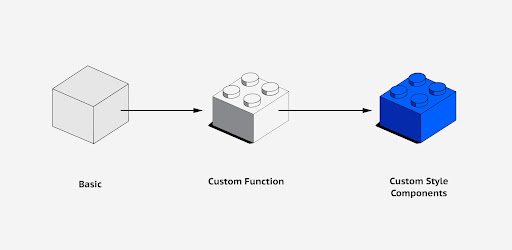 In this scenario, it would take forever to complete the pieces you need, let alone construct all the buildings. This is what happens when companies don't have a design system during an enterprise software design project; they have to build everything from scratch every time. This means that all the things that you see in an application, like calls to action (CTAs), buttons, modules, or form fields, would have to be made from nothing each time they needed to be added to a design.
Building the same components from scratch when designing enterprise applications slows down velocity. The workflow becomes repetitive for each project.
Additionally, there is a high chance that each element would turn out differently, jeopardizing brand consistency across its enterprise software design. Also, the coded functionality of the elements such as form fields, data validation, or character limits would have to be written ad nauseam.
The best way to solve the "Lego problem" is to go and buy several sets of legos with a range of pieces and start building. With these pre-made building blocks, it will be easier, faster, and more straightforward. Companies won't have to build every component from scratch.
There are certain system design basics standards for that a digital application will need, like CTAs, buttons, etc. Systems analysis and design ensure core elements are readily available, customizable, and contain implement functionalities. Styling and functionality go hand in hand, and an enterprise design system understands that at a foundational level.
Is There a Better Way?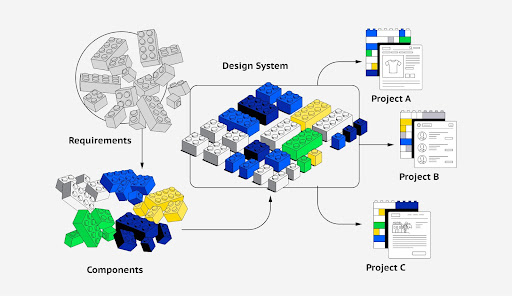 While it is common to have a load of undifferentiated requirements for various projects that must be slowly developed into components. Using an enterprise design system that already defines the basic structure and functions of various elements easily eliminates tedious steps of the application building process.
Major Companies That Have Their Own Design Systems:
If you didn't already know, elite companies have been using design systems for ages, and they have shared them publicly. Here are some examples to check out:

IBM: Carbon Design System
Google: Material Design
Spotify: Design System
For example, let's look at Google's public design system, "Material Design." Google developed Material Design for their vast array of platforms, including Drive, Maps, and Gmail. After going public in 2014, many companies have used it to develop web-based applications that work well with Chrome as well as other browsers. DOOR3 has also used it several times and adapted it according to customer needs.
Though design systems are available online, a team is still needed for adaptations like the colors, logos, and other personalisation work.
Benefits of a Design System
1. Streamline Communication
Building an application involves designers, developers, and consultants. With so many people, miscommunications are bound to occur. Design systems help create a set of frameworks organized for each team member. As the functions and styling are already defined in the design system, it becomes easier to focus on creativity because you need less time for clerical tasks. A robust design system builds better communication with the clients and internal team as well, boosting the efficiency of the workflow and further solidifying the relationship.
2. Establish Consistency
A design system is a shortcut to building an ecosystem of platforms representing a particular brand. For example, a brand's button should not only be similar in style but must also possess the same functionality to avoid confusion on all online portals. Such consistency in UI/UX design makes it easier for brands to gain customer mindshare and increase engagement.
Read: Automated Systems Design: Streamlining Efficiency and Innovation
3. Aid in Decision-making
It also helps implement things faster, because you only have to refer to the system to understand an element's design and functions. Application redesigning, untimely changes and client requests, and all other UI/UX problems can be fixed by having a go-to document that defines everything valuable.
4. Make Space for Creativity
With a design system in place, the repetitive legwork disappears, and the designers are free to do the creative work they excel at. Building an office space that pushes for creativity is essential. While the basics get covered in design systems, the team gets the time to brainstorm new ideas and what it can do better.
Conclusion
An enterprise design system is perfect for any organization that has multiple sites and apps to work on simultaneously. It will align the team members toward the same goals and facilitate the kind of collaborative approach every successful company needs.
You can create personalized design systems or use the ones available for free. The aim is to have a single source that defines the basic framework of how valuable elements in a digital setting will work. With an enterprise design system, you can establish a middle ground between design and the development teams in order to build applications your clients love. You can reach out to us by contacting us here.
Need more help?
Unleash the Potential of Your Project
Share Your Requirements with Us
Customized Solutions to Drive Success
Discover the Possibilities with a Free Quote
Request a free project quote
Request a free project quote