Creating Apps Users Will Quickly Adopt
Applications are dominating mobile web usage and mobile marketplaces are overflowing with apps to meet a user's every desire.
The Daily News reported, "The combined number of apps available on the US versions of Apple's and Google's apps marketplace is more that 1.5 million." Because of this app abundance, users are becoming picky on the type of experience they will tolerate and how they will engage with an application.
Not only has it become extremely competitive to get your app downloaded, but it has become difficult to engage a user and get them coming back for more. Based on a recent study by Compuware, 80-90% of apps are deleted after only one use.
Having the right User Experience agency with strategy and marketing approach from beginning to end, can help you break the common user application cycle and reach your desired app usage cycle.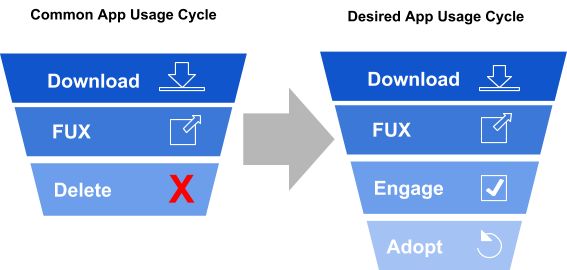 Below are some key factors to keep in mind when it comes to creating apps that people will quickly adopt.
The Buy-In to Download
It is important for users to be excited in following through with the call-to-action to download the app.
Incentives such as free trials or discounted memberships are a great way to pique curiosity.
First-Time User Experience (FUX)
Like a plane needs to be landed gently on the runway, a FUX should ease the user into the app after downloading. Mobile users tend to use their devices for short sessions, so don't force them into long engagements where they may feel overwhelmed.
Simplify the registration process by minimizing the initial information collected. Provide the option for the user to update account and personal settings later.

Automated Welcome Tours create an interactive and quick way to introduce key features.

Social sign-in, allow the user to to sign-in with an existing account (i.e. Facebook or Twitter).
Staying Power
You gently landed the plane, now it's time to make the users stick around and enjoy the stay. Applications with the highest proven engagements often utilize strategic marketing techniques.
Gamification is a popular method to entice new and retain existing users by tying rewards to desired engagement. Rewards can be as simple as badges or discounts or physical items such as local coupons or free marketing materials.

Release regular updates and new exciting features to create a fresh feel to the app and keep users excited.

Push alerts and emails are an effective marketing tool to remind the user to return to the application. A rule here is to use but don't overuse and provide users an easy opt out if desired. This is an immeasurable aid with user retention.
The above suggestions will help you create an application that users will not only download, but adopt and stay engaged with. Remember, it is also important to include real user testing when developing a mobile app. This ensures true feedback in finding custom solutions to increase app adoption.
John Malloy is a Senior User Experience Designer at DOOR3. What other factors do you think are important when it comes to creating apps that people will quickly adopt?
Image coutesy of Morena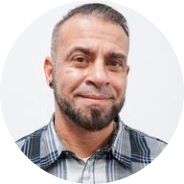 Need more help?
Talk to a UX expert
Discover the Power of Seamless Interactions
Use our price calculator
Let us help you enhance your user experience
Request a free project quote
Request a free project quote