Does Your Business Need a Chief Mobility Officer?
05.30.2013
Jon Kuhun, Director of Product Management at Enterprise Mobility Group, Symantec, believes "perhaps nowhere else in IT is the opportunity to innovate as rich as it is with enterprise mobility." Particularly, the fact that, "smartphones and tablets offer the chance to improve everything from employee productivity to how you interact with customers and achieve competitive advantage." And yet, says Kuhn, "most enterprise design systems are trying to implement modern mobility strategies using existing IT organizational structures." In order to understand why this is a problem for many organizations, we should first consider how existing IT organizations are structured.
The top of most current IT organizations is the chief information officer, or CIO (sometimes called teh CTO), who controls network operations, desktop or endpoint operations, as well as app development and deployment. This person often works closely with a dedicated security officer, and "the endpoint security team develops policies and puts technology in place to effectively secure the company's information."
"So, where does enterprise mobility fall? Regardless of whether we are talking about company-owned or personally owned devices, the answer, unfortunately, is it falls into the gap between these groups. The very nature of modern mobile technology causes it to span traditional IT boundaries," according to Kuhun, the main problem in most organizations is that "no single group is being given charge over mobility, because each plays a part in the mobile environment in some way or another. Even when one of the teams is given responsibility to oversee mobility, that particular group typically has vastly different priorities than the others. The result is a lack of efficiency and cohesiveness when it comes to enterprise mobility."
Kuhun suggests creating a new position called the Chief Mobility Officer, who would have jurisdiction over enterprise mobile app developers with the sole mandate to implement, manage and secure mobile technology. (At DOOR3 we often see this position as a head of mobility, not necessarily a C-level role, but a senior role in the IT organization). In order for such a position to work, Kuhun suggests that the head of mobility involve decision makers from throughout the organization, and make improving user experience of mobile technology the primary goal.
Would a Chief Mobility Officer, or head of mobility, help your business or organization organize your digital strategy? What other structures have you seen work well with enterprise mobile app development?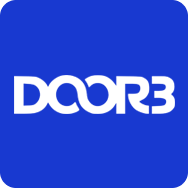 Need more help?
Talk to a UX expert
Discover the Power of Seamless Interactions
Use our price calculator
Let us help you enhance your user experience