How Do You Manage a Project to Ensure Success - DOOR3
04.16.2021
Project managers are the unsung heroes of the development process. There's so much more to shepherding a project to launch than just keeping the trains on schedule. Each role, from researchers to designers to developers relies on the guidance of a strong PM to connect the dots of a project and enable the collaboration it takes to create something truly of value. On any given day, a project manager can be found facilitating workshops, rejiggering schedules, bringing stakeholders into discussions, finding the right resources, checking to make sure feedback is properly implemented, and bringing their own experience and expertise to bear on projects.
At DOOR3, our project managers are central to the work we do. Beyond making sure deliverables are completed on time, they bring a broad range of skills to their role, including a wide array of backgrounds in development, leadership, business analysis, and more. Because our team is so unique, I thought I'd take a little time to explain what you get with a DOOR3 project manager.
Process Experts
When it comes to the core responsibilities you'd expect, our project managers certainly take an active role in managing projects every step of the way. They are versed in multiple project delivery methodologies, including Agile and Waterfall and sometimes, a balance of both. And, as the architects of project plans, they are responsible for assembling project teams including consultants, user experience designers and researchers, business analysts, developers, and quality assurance specialists, depending on the needs of the task at hand.
Throughout our process, our PMs manage our team's work through self-contained sprints, delivering regular updates to the progress of developing software every two weeks in an iterative manner. Beyond checking in on and facilitating work, project managers also spend time analyzing how it's completed. Our team's focus is on getting to launch in a controlled and predictable way through carefully managing the software development process from start to finish to minimize risk every step of the way.
Our project managers don't just specialize in keeping projects on track with a focus on time, budget, and scope; they also have extensive experience with desktop and mobile application development, and managing complex, multidisciplinary programs and projects across industries. While it may be your first product launch, this is what they do every day—and what they do best.
Client Partners
Collaboration is core to our process at DOOR3, and that couldn't happen without the facilitation of our project managers. Beyond keeping clients posted every step of the way through regular status updates and check-ins, our PMs work to create a foundation for collaboration and embed our team with yours and vice versa.
Our process often starts with client workshops organized by PMs, from in-depth discovery sessions to collaborative meetings to determine product features, functionality, and more. Our project managers are also in regular contact with clients, integrating them into crucial decision-making, translating client needs to the team, working to collect feedback, and more.
We even help some clients set up their own DOOR3-style project management practices, implementing time-honed processes we use within our organization to enable their own efforts.
Unique Resources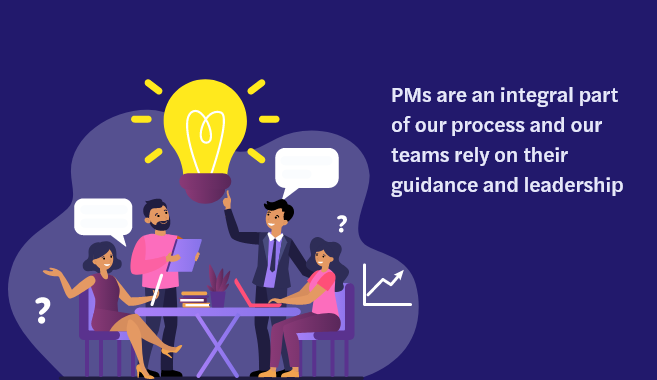 Many of our project managers at DOOR3 didn't set out to be PMs. They started out gaining years of experience in development, business analysis, IT, and operations management, to name a few fields. And many members of our team have leadership certifications or came from leadership in other fields.
In short, PMs are an integral part of our process and our teams rely on their guidance and leadership. With countless successful launches under their belts, our PM practice is expert at enabling collaboration and partnership with our clients while also asking the right questions to maximize the business value of what we create and minimize risk.
My role as the PMO practice lead is to enable my PMs to do all of the above. My philosophy? Continuous Improvement and to lead this team into a high performing, effective and highly recognized PMO team.
Want to know how a DOOR3 project manager can facilitate your project? Give us a call to talk about your project needs.
Need more help?
Talk to a UX expert
Discover the Power of Seamless Interactions
Use our price calculator
Let us help you enhance your user experience