UX Audit: An In-Depth Look at Improving User Experience
02.07.2023
When people think of the word audit, their minds may go to the terrible experience of having to suffer through a financial audit at the behest of IRS auditors. Thankfully, the process of a UX audit shares nothing in common with any of that!
What is a UX audit?
A user experience audit is a holistic assessment of the user experience (UX) of a website or application. The purpose of a UX audit is to identify areas of improvement for the audited product, and to create a better overall experience based on user needs and business goals. UX audits may uncover user pain points or obstacles for a software product's user base, and the auditor will provide recommendations on how to navigate these obstacles, increasing both user engagement and user satisfaction.
In this post, we'll lay out the benefits of conducting a UX Audit, why you might want to contract for one, and what you should look for in a UX consultant to undertake the work.
What are UX Audit Benefits?

Conducting a UX Audit is no simple task, but it is indeed worth considering, regardless of if it requires significant investment. There are many benefits for both your users, and your bottom line. Here are the main areas of value.
Improved Functionality
Products are designed to facilitate an objective. However, objectives shift and are subject to changes prompted by unforeseen circumstances. A UX auditor can propose solutions to remove friction and ensure that the information and functions needed to achieve goals are front, center, and aligned with digital standards. This can help you bring your products and objectives into alignment with the needs of your end users.
Satisfied Users
Happy users (or employees) will spend longer interacting with your product and will have a higher goal success rate, which in turn leads to better retention.
Just think about your favorite apps and how they make you smile.
A UX audit will ensure that your user's needs are met with delightful experiences that make them want to return again and again.
Good for Business
Whether customer retention, attraction, or increased conversion is your goal, UX audits and the recommendations that they produce are proven to move the needle in the right direction. On average, businesses report a 100x ROI after completing an audit.
When Do You Need a UX Audit?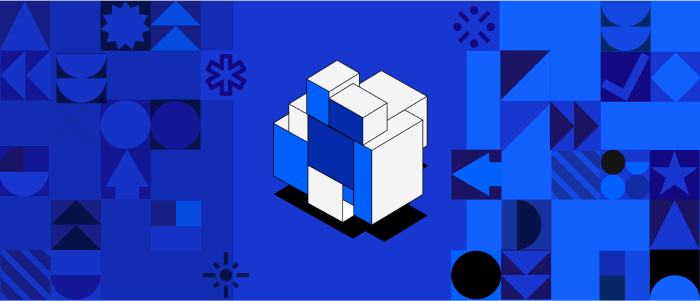 Updating your digital presence and core business technologies is often deprioritized. Usually, companies wait until things break down in a digital product before they decide to address problems and implement solutions. At other times, as enterprises grow, they shelve necessary updates in lieu of marketing and other activities that seem to give more immediate returns.
Choosing to relegate the maintenance of these assets to the backburner will ultimately damage momentum and risk larger efforts. However, even when problems arise, it is difficult to determine what UX solutions are best. There are several ways to determine if a UX audit is right for you.
If you are receiving complaints about your products or services, this may mean your software is outdated, not up to accessibility standards, or difficult to navigate.

If onboarding employees to your software is costly and time consuming, you need to remake your user experience design to be more intuitive and efficient.

If you have a number of updates planned for your product and no idea where to start, you might benefit from mapping the impact of a proposed change against the effort of implementation. Then you can plan a route of product improvement that is the best fit for your overall vision.

If you have a promising concept, but you want to troubleshoot it so it can be optimized before launching, you really need to conduct heuristic, competitive, architectural, and audience analysis.
What goes on in a UX Audit?

Question, Listen
We seek a deep understanding of your product and its users. By listening to users' needs, discerning your product goals, and facilitating the ideal alignment of the two, we best prepare your product for improved user experience.
Analyze, Compare
We analyze your product's architecture, accessibility, content and aesthetics, framed against the users' objectives. We compare your product against current digital standards, as well as your competitor landscape, to see what can set you apart.
Recommend
At Door3, we're more than just a UX design agency. Our UX Audit produces evidence supported recommendations that reveal a path forward for your business. By analyzing your users, your product, and the context they both occupy, we expose the insights necessary for strategizing your user experience enhancements and feature prioritization.
DOOR3's UX Audit Process

Based on these overall themes, depending on your needs, the UX Audit can include a number of different approaches to gathering UX data. At DOOR3, we employ a range of audit activities including:
Heuristic Analysis
Employing industry standard usability metrics, our team surveys your product's structure and interface.
Content Audit
In this crucial exercise we document as much information as possible from every page of your product.
Audience Analysis
We identify what makes your user base unique, assessing and prioritizing their wants, needs and frustrations. This user feedback provides immediate direction on how to improve your product.
Competitive Analysis
As cross-industry experts we strategize ways to surpass your competition and explore new markets.
Accessibility Audit
We meet accessibility standards and introduce functionality that will make your users feel valued.
Stakeholder Interviews
We understand that you know your business best and want to hear the goals of the key players in your company.
User Journey Workshop
Our team facilitates a workshop that considers individuals and what they want from your product.
Architecture Analysis
We examine how information is structured in your project in order to develop more intuitive and streamlined models.
Deskside Walkthrough
We connect with the end user to understand their needs so your product can be more engaging and rewarding.
User Testing / Research
Through user interviews, surveys, and trials, we gain first-hand insights from users.
Discover how our UX design work can help optimize the user experience for your enterprise and drive growth through improved user satisfaction.
What is in a UX Audit findings report?

The outcome of our UX audit is a findings report of research-backed, actionable improvements to your product. This report is a road map with prioritized feature implementation based on the level of effort and amount of return each upgrade will provide.
These deliverables are produced based on a series of activities, including strategy workshops, wherein we lay out the stakeholder strategic objectives and the gaps and challenges they are having with their product, process, or people. We then contemplate success factors and risks along with the knowns and unknowns.

In addition to these lines of inquiry, we take into account organizational factors that will affect the project. These include time and budget and preliminary roadmapping phases. Once these are identified and accounted for, the UX Audit Report is complete.
Let's look at the parts of the report in more detail.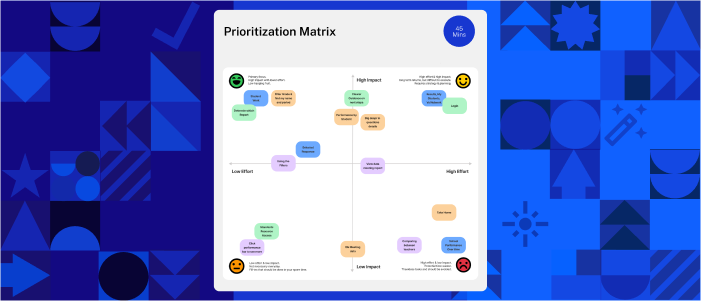 Prioritization Matrix / Roadmap
We take our findings and suggested improvements and map them out in a matrix along the axis of effort / impact. From there we prioritize them into a structured implementation timeline to guide the next phase of your project.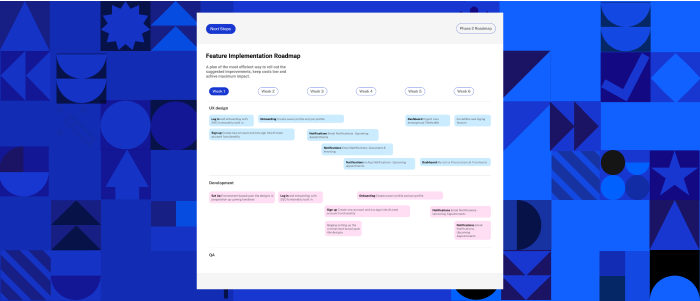 User Personas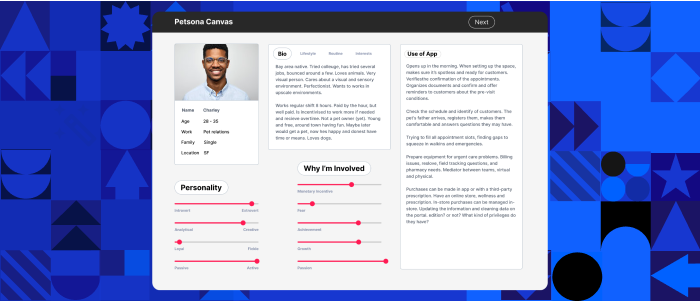 User Personas are composite archetypes representing larger, distinct groups of users. The personas help guide design decisions based on perceived user behaviors, moving forward by keeping actual people at the front of the designers' mind.
UX Audit: 4 Key Takeaways
A UX audit is a holistic assessment of the user experience (UX) of a website or application aimed at identifying areas of improvement and to create a better overall experience.

Some benefits include improved functionality, satisfied users, and higher returns on investment for your business.

A UX audit should be considered if your business is experiencing a high volume of complaints based on their experience with the product, it takes a significant amount of time to onboard employees, or if you are considering major updates or overhauls to your current product.

DOOR3's UX audit is a ten step process resulting in a findings report meant to guide you through your next implementation phase.
What kind of UX Audit is Right for me?
There are a range of user experience audit services available worldwide with varying degrees of expertise, experience, and costs. At DOOR3, we offer a tiered system to serve as many different clients as possible. These different levels range in time and depth from two to six weeks. Often, we will undertake the Audit as part of a larger technical discovery.
Determining what type of UX Audit is right for your company is no easy task. You have to consider the questions laid out at the beginning of this post and depending on the pain points you're experiencing, it may be clear what areas you need to focus on, or you may need root cause analysis before you know where to begin.
In a lot of cases, the complexity of business processes often means getting expert help from outside your organization is the best way to ensure success. If you are interested in learning more about our UX audit or to talk with someone about scheduling, please contact us today!
Need more help?
Get Our Free UX Checklist
Start making changes to your software today
Unleash the Potential of Your Project
Share Your Requirements with Us